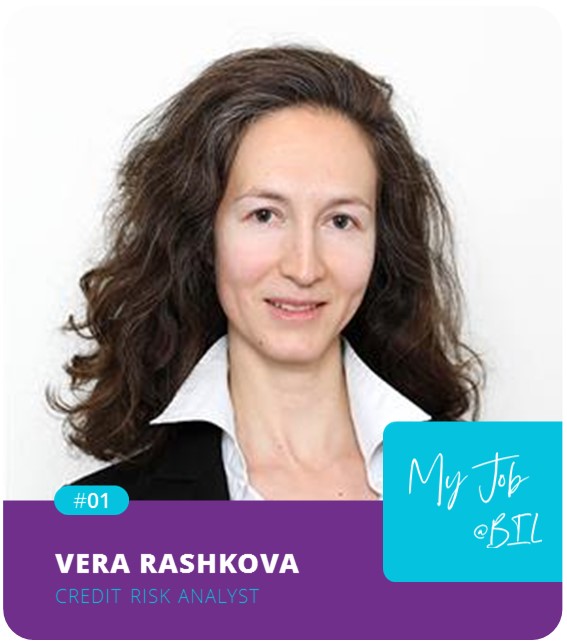 Meet Vera Rashkova, Credit risk analyst at BIL
Your job
I joined BIL 1 year ago, as part of the Credit Risk Management team, notably the Restructuring Unit. I have 10 years of experience in financial analysis of Corporate clients so I cover the monitoring of the CIB portfolio of the Bank. The Bank has 3 business lines: Corporate & Institutional Banking ,  Wealth Management and Retail Banking.
The monitoring process itself consists of a strict follow up of overdue payments from the Clients, as well as maintaining a Watchlist file of Counterparties for which serious financial difficulties have been identified, or again other default triggers have been observed…
Your collaborations
Among the other responsibilities stated already, my work consists in a close interaction with the Relationship Managers in finding together the best solutions for the Bank and for our Clients, experiencing financial difficulties.
For the well-known reasons, 2020 was a particularly challenging year for all of us and this year 2021 continues to keep us extremely busy. What really motivates me though is seeing the results of my work on a daily basis.
Competences for the job
First of all, relevant education and experience in financial statement analysis and then a very good knowledge of the different products offered by the Bank. No need to mention proficiency in using Excel in particular.
Future of your job
We live in the era of digital technologies, so I do believe that in the coming years the access to information, all kinds of information, would be much easier; the extraction of data from the systems and its treatment would be done in a more efficient way. Still the analysis part of my responsibilities would be inevitable for many years to come. So the thinking process, in finding a specific solution on a case by case basis is where the real value added of my job comes from…
What's beautiful about the future is that it is uncertain! … and even though uncertainty goes hand in hand with changes and risks, it is all about embracing change and doing our best in managing the risks…!
BIL in few words
BIL is the oldest multi-business Bank in Luxembourg, founded back in 1856. Nowadays the Bank is majority owned by the Chinese Group Legend Holding. BIL has Wealth Management offices in Switzerland, Denmark and China; trading offices in Luxembourg and Zurich and provides specialized services via the family office Belair House, or alternative fund management ( via BIL Manage Invest) or again leasing (via its entity BIL Lease)…
As of 30 June 2020, BIL's long-term ratings remained unchanged by both Moody's and S&P respectively A2 (Stable outlook) and A- (Stable outlook).
The Total credit risk exposure reached EUR 33.66 billion as of 30 June 2020, comprising primarily  Individuals, SME & Self Employed in one category; followed by Central Governments; Corporates and Financial Institutions.
Due to the pandemic a significant increase of the Cost of Risk both in terms of specific provisions and expected credit losses resulted in a drop of the Net Income. The Solvency ratios remained stable.
Want to join us? 
Discover all our job and apply now: stayforacareer.com